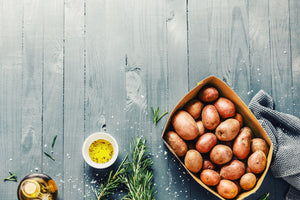 Farm Fresh - Direct to your door!
You won't believe the flavour!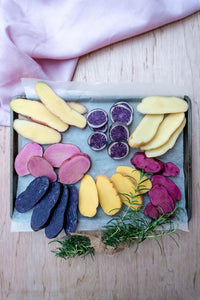 Which type of potato is perfect for your dish?
Not all Potatoes are the same! Each type of potato has a different texture, colour, flavour and shape. Here's a quick guide!
Crispy Potatoes - Fluffy, Crunchy, Crispy! They have a higher starch content which helps give them crunch. They are drier (lower in moisture) so perfect for Roasting, Baking, Frying and they make a fluffy mash. Definitely your choice when thinking; Rosti, Hash Browns, French Fries, Hasselback and pretty much anything in the oven.
All Purpose Potatoes - These are the "Go To" spud that every pantry needs! Equally comfortable in both rustic and sophisticated recipes. They will cover off most of your dish requirements from, boiling and oven to frying. The choice for the everyday dilemma; "I don't know what I am going to cook yet".
Creamy Potatoes - These potatoes have a higher moisture content, so they don't absorb water during cooking and stay firmer making them the choice for Boiling, Salads, Curries, Gratin and Roasting (if you part boil). They also make a creamier, thicker mash. These potatoes are generally lower in GI and are more diet-friendly, depending on how they are cooked.
Gourmet and Fingerling - Get their notoriety because of their shape and/or seasonality. They are more delicate, and harder to harvest, needing to be hand dug. The deep rich colours of some, are sought after for their antioxidant properties, or just because they have a unique flavour.  You can have lots of fun with them, from Purple Mash to Pink Gnocchi. 
But personally, we think all potatoes are special!! 
Let customers speak for us